Tweet
Follow @dunreebcutout
Tweet #TwitterStories
Tweet to @dunreebcutout
Dunreeb Mosaic
Dunreeb Mosaic is a plugin for creating three-dimensional optionally textured mosaics.
Dunreeb Mosaic supports the following features:
Many different forms of mosaics can be generated.
The number of edges, height, distances, dimensions etc. are adjustable.
Crease, rotate, separate can be controlled.
Special algorithms help to avoid spike or small parts when needed.
Textures can be used as a color source or directly.
Colors and textures can be mixed
The mapping can be set and applied to the entire mosaic or its components.
Materials are appropriately generated, the number can be automatically limited.
Free and detailed instructions are available here.
A large amount of presets is included to demonstrate the features. Build on this to develop your own ideas.
Undo/redo capable
Plugin for Maxon Cinema 4d and Autodesk Maya
For Windows and Mac OS X
Dunreeb Cutout
Cutout is available as a plugin for Autodesk Maya and Maxon Cinema 4D or as a standalone application for Windows or Mac OS X.
It's purpose is building real paper models from your virtual 3D models.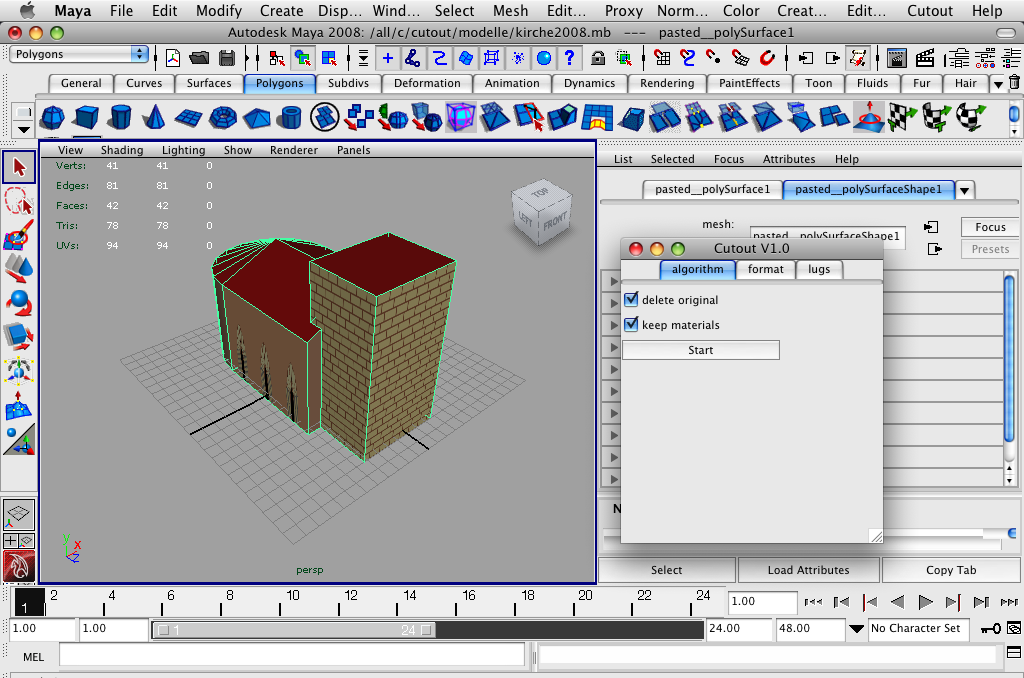 Features:
Converts an arbitrary triangular mesh modeled or loaded to a printable papercraft
Papercraft is directly generated in the 3D scene -- no need to export
Handles arbitrary material (also mixed) on the mesh: textures, single colors, materials etc.
Original mesh can be optionally deleted or kept in the scene
Final page size of the papercraft can be limited
The resulting pieces of paper can be arranged in different ways
Papercraft is generated axis-aligned for easy printing and/or rendering
Lugs for gluing the model will generated, its size is adjustable
Undo/redo capable
Compatibility: Windows, Mac OS X
Demo version available
The manual is available for free download:
Manual (english)
;
Manual (german)
The standalone version has some additional features:
SVG export
optional cut and foldlines
optional numbers as gluing hint
Page mirroring
Material coloring